Welcome to SciSe Highway Barriers Co.
SciSe is a China manufacturer and exporter of Guardrail Barrier products for expressway, bridge and highway traffic safety. Our products range from the guard rail highway barriers, sound barriers and fences to the various accessories for installation of barriers and fences. We use choic cold processing steel strip to make quality guardrail panels for our customers, going through flattening, punching, galvanizing or plastic coating, fabricating and shearing process. The guardrails can be traditional beam type solid guardrail panels or economic cable guardrails.The steel guardrail panels are made of corrugated plates in symmetrical shapes of waves. It is either concave (bowing away from the traffic lane) or convex (bowing towards the traffic lane).The guardrail beams we supply are 10 gauge and 12 gauge materials, ranging from 5' to 60' radius. Made from strip steel coils, the guardrail panels have a normal thickness of 2mm to 10mm. Metal fittings we supply include brackets, beam posts, columns and terminals for completing a full guardrail barrier system.

We supply and manufacture beam guardrails in accordance with China National Standard JT/T281-1995(Corrugated Sheet Steel Beams For Expressway Guardrail - China), AASHTO M-180(Corrugated Sheet Steel Beams For Highway Guardrail - USA), RAL-RG620 (German) or any other International Standards. The base steel we use meetsSteel Grade Q235B (equivalent to S235JR according to DIN EN 10025 and Gr. D according to ASTM A283M) or Q345 (S355JR / ASTM A529M 1994).
Scise Featured Products: Highway Guardrails

Where the Guardrail Barriers are Used:
Highway guardrail is commonly used as a passive barrier system for highway traffic security. The steel guard railings are installed widely along the roadway and highways, especially at curves and slopes, parking lots, road corners, dead end street and other site that may cause danger or accident to people or cars.

How the Guardrail Panels Work:
Guardrail panels fixed along the expressway can guide the direction of the vehicles and keep them running within the safe limit. In case any traffic accidents happen such as vehicle collision, the guardrail barrier will play an important role by decelerating the speed of the collided vehicles. Due to the designed curved shape of the guardrail panels, they will allow a slowing down of the crashed vehicle without hurting it seriously. In this way, the guard rails can reduce the danger level of the involved vehicles by keeping them safely within the road, allowing them slow down and directing them back to the right way.

What are popular surface treatments for the guardrail beams:
We supply three types of steel guardrail beams according to the finishes:
Common galvanized steel guardrails , zinc coating quantity at about 550 gram/ m2 (40µ);
Heavy hot dipped zinc plated guardrails, zinc coating quantity at about 1100 g/m2 (80µ) or 1200 g/m2 (85µ);
PVC coated steel highway guardrails.

Functions of the Surface Treatments to the Finished Guardrail Panels:
Steel galvanized guardrail coated with zinc offers more durability and maximum strength. The zinc coating also prevents discoloration and weak points caused by rust and corrosion.

The zinc or PVC coating enables the following five features for the steel guardrails:
1, Anti-rusting;
2, Anti-corrosion;
3, Longer service life with protective coating layer;
4, Ultraviolet proof;
5, Anti-aging.

Highway Guardrail Panels Types according to Beam Types:

Type I. W-beam guardrails
Type II. Thrie beam guardrails
Type III. Square Box beam guardrail barriers

Photo Illustration of Our Major Products Types: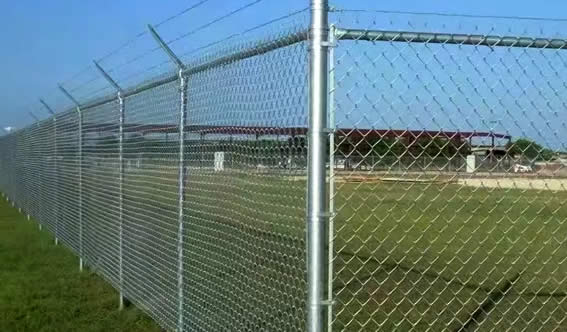 Chain link mesh fencing hot dipped galvanized for highway perimeter fencing barriers against pedestrian and animals.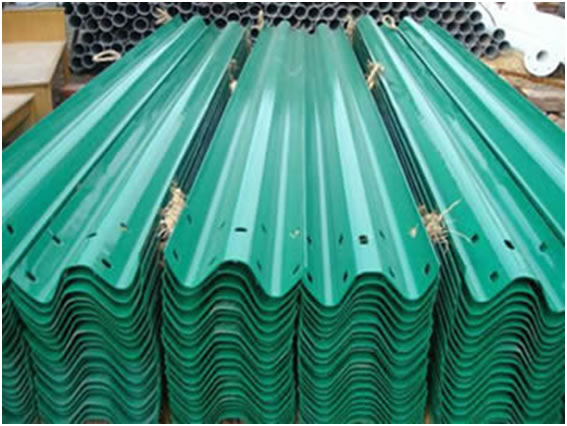 Steel Guardrail Beams with Plastic Coating Finish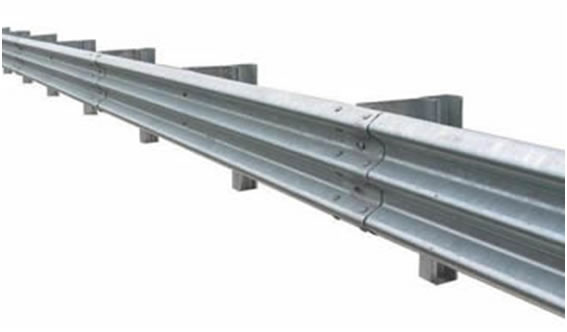 Galvanized Thrie-Beam Guard Rail Panels, Straight line, Installed with Steel Posts, for Highway Traffic Safety Protection.
Thrie beam guardrail panel features its shape of three waves panel, which has an added corrugation space. Compared to two-wave shape panels, this one has a stronger construction and higher impact endurance against the crash force.


Galvanized Steel Square Tube / Box Beam Guardrails
Box beam guardrail we supply can be designed in square open or rectangular open section. The lined box beam guardrails are not as strong as the w beam or thrie-beam guardrails. It is mainly used on both sides of the bridges. Box beams can be used as guardrail posts also.


W-beam Hot Dipped Galvanized Guardrail with Slotted Holes for Easy Fixing on Posts, Finished with Zinc Coating

W-Beam Guard Railings are the most frequently used type of solid metal collision barriers for highway and roadway system supplied at economic cost. It features the symmetrical structure of two waves of the panels which are specifically designed to catch car bumpers and to reduce the severity of run-off-road collisions. It is fabricated from steel coil through a kind of rolling into the shape of a "w". The W shape beam panels and the blocking spacer work together to produce a good collision coefficient to absorb and reduce the vehicle energy in collision and in this way reduce the risk of harms.

W-Beam Steel Guardrail works in a system barrier composing with beams, terminal section and posts. The fencing system is installed and strengthened with block spacer, post cap, washer and bolts.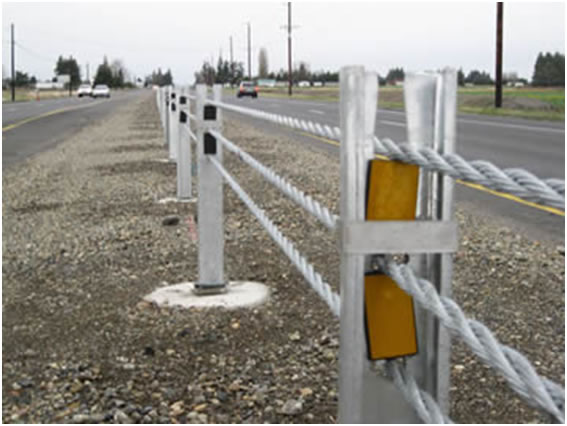 Safety Barriers Made of Hot Dipped Galvanized Steel Strand Wire Cable
Guardrail Accessories and Parts: We also provide highway guardrail terminal ends, cable barrier end, crash cushion, guardrail post, road sign, and other accessories including caps, bolts, nuts and offset blocks, etc.
General Manufacturing Steps of Highway Guardrails:
Every step of our production from raw material to finished products are under careful quality control. Normally the guardrail panels going through the following steps: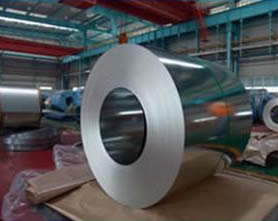 We choose choice cold steel strips as raw material
Ensuring Flatness for further processing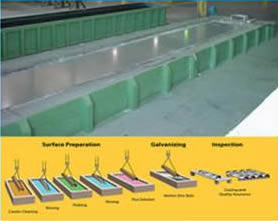 Surface Treatment: Galvanized Zinc Plating or Plastic Coating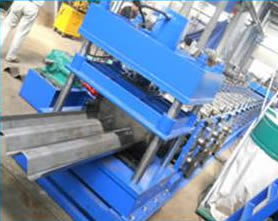 Metal Fabricating and Shearing: Normally fabricated into two wave or three waves